What we're noticing:
Normal weather! Our temperatures have been right about average for a couple weeks and we actually got above average rainfall in some of our service area last week.
Don't let the rain fool you. Even though our service area got at an inch of rain or more, we went into last week at over a 6″ deficit for the summer so far. Here's a very interesting video that shows how much of the rain actually soaked into our lawns and how much probably ran off due to the prior heat wave.
Lawns have come around great in general after that rain. They're looking very good. The surge in growth of the grass has also come with a surge in weed growth though.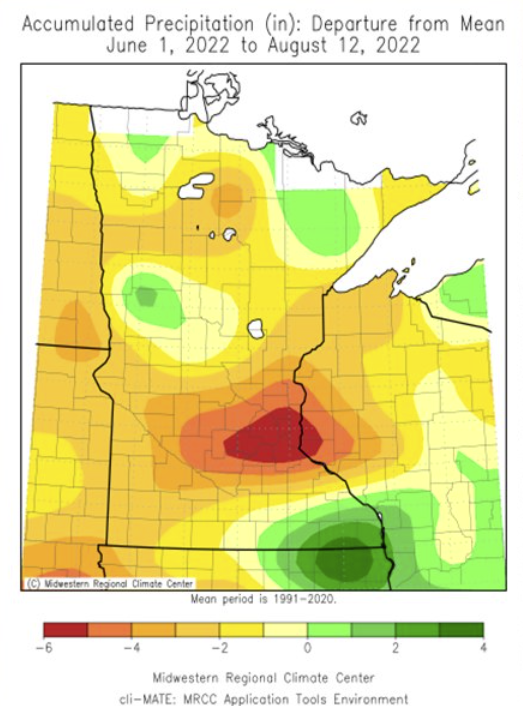 What we're doing:
These milder temperatures, with high soil temperatures and regular rains are exactly why this is the best time of year to seed. We are full steam ahead on aerating and overseeding.
We're being extra diligent on our weed control with the growth spurt from the recent rains.
What you can be doing:
You can mow on a regular schedule! If you don't have an irrigation system, continue to mow at the highest possible setting (until we've closed the gap more on the rainfall deficit). If you have an irrigation system, you can assume normal mowing. If you were mowing high, don't immediately start mowing low; mow a little lower (0.25″ lower) each week to avoid stressing the grass by cutting off too much grass blade at once.
Sprinkler systems can be on a regular cycle (20 min per zone every other day run between 4am and 8am is ideal)
Looking at the forecast for the rest of the week, you probably don't need to drag the sprinkler and hose out. There's decent rain chances through Saturday. Just don't put the sprinkler away for the season – we might still need it.