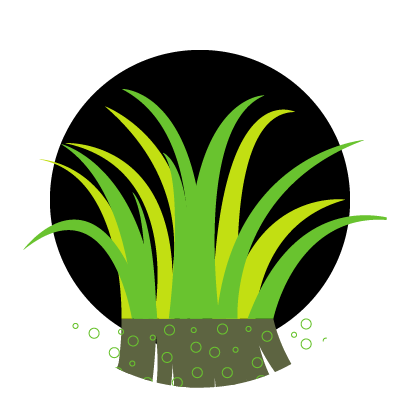 Soil Improvement
We'll make your lawn the ENVY of the neighborhood
What's in it?
Three different cutting edge liquid and granular products are applied during the one visit. The products contain nitrogen, phosphorous, potassium, iron, calcium, sulfur, magnesium, potassium hydroxide, humic acid, sea kelp, carbon ash, and more than half a dozen other micro-nutrients. Google any one of the preceding ingredients followed by "lawn" to read about how it helps your turf. Everything applied is 100% natural and organic.
Air8 Liquid/biological aeration
This product creates similar benefits to mechanical aeration without the negative side effects (dirt plugs, sprinkler head marking, cost). This product causes a chemical reaction in the soil which creates micro-fissures in the soil down deep. The fissures are ideal for getting nutrients down to roots and providing paths for roots to grow down deep and healthy.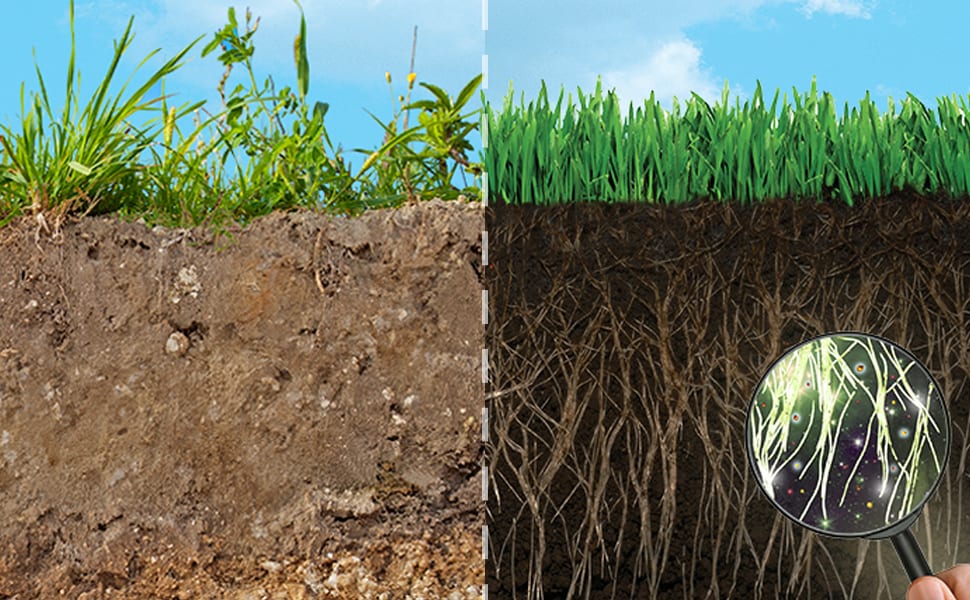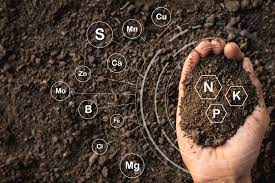 RGS
This product increases rooting potential (mass and depth) and decrease stress pressure caused by heat and drought. The biologically active material contains Humic Acids and Sea Kelp to aid in color response, to buffer and extend nitrogen release rates, and to add oxygen to the soil profile for greater nutrient uptake.
5-5-0
This product is packed with micro-nutrients and organic material that fosters healthy turf. It has calcium and sulfur which balance soil pH issues (if you've heard of using lime on a lawn, lime breaks down into calcium). The is like a slowly available nutrition shake for your lawn.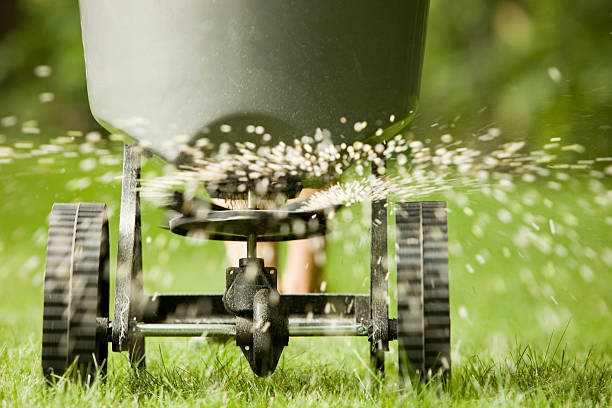 Lawns that will see the greatest benefit and have the greatest need are:
New construction (sod laid within 5 years)
Compacted lawns
Dense clay and/or sandy soil
Heat stressed lawns (South facing hills without shade, poor soil conditions, etc.)
Soil Improvement FAQ
What if it doesn't work?
zodfqcgg-ca
2022-04-08T17:33:42-05:00
It will! If you are concerned, take pictures of your lawn the day before the application and then one week later. It's impossible to see change when you look at the incremental improvement daily. Looking at the difference over a week is where you can see change in a lawn. If you aren't happy with the change, don't pay! Only pay if you love it.
ProLawns will respond before the end of the following business day with an answer to your question or a resolution to any issue affecting your satisfaction. If the matter is not settled to your liking — you will be refunded for the lawn application that you aren't pleased with.